Me And My Girl
QUEEN'S THEATRE
Billet Lane, Hornchurch, Essex
Thursday 26th - Saturday 28th July 2001
Evenings 8:00pm
Saturday matinee 4:00pm
Leaning On A Lamppost • The Sun Has Got His Hat On • The Lambeth Walk
Book and Lyrics by L Arthur Rose and Douglas Furber • Music By Noel Gay
Book revised by Stephen Fry • Contributions to revisions by Mike Ockrent
Originally produced at the Adelphi Theatre, London, by Richard Armitage
Subsequently produced at the Marquis Theatre, New York City, by Richard Armitage,
Terry Allen Kramer, James M Nederlander and Stage Promotions Ltd & Co.
An Amateur Production by arrangement with Samuel French Ltd
Havering Music Makers are affiliated to The National Operatic and Dramatic Association
and acknowledge the support of Havering Arts Council

Me And My Girl was another great show for us. Good fun for the cast and much enjoyed by the audience, many of whom who sang along with the well-known songs.
Ticket sales were 97%.

And …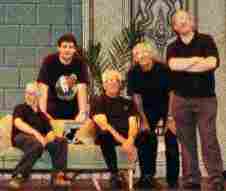 Some of the older ... er, "more experienced"
members of our backstage crew having a well-earned rest

If you'd like to be in a show as good as this, see "How To Join"
Last Revised: 20th February 2004 by
Nick Ford

© Richard Williams, Nick Ford & Carla Moore 2004