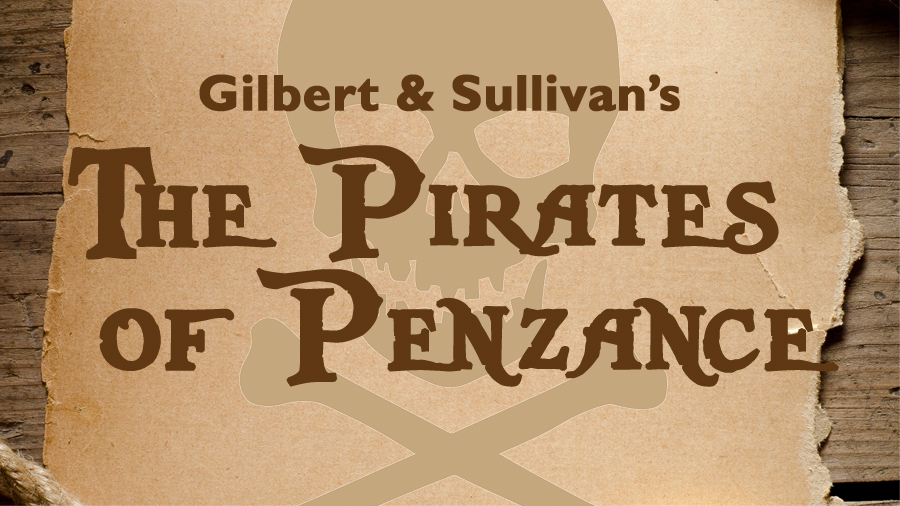 Gilbert & Sullivan's
THE PIRATES OF PENZANCE
Meet The Cast & Creative Team


Jenny Draper - Mabel
Jenny has taken on several of Gilbert & Sullivan's mezzo roles in the past, but has never had a crack at making Mabel's farmyard noises before. Jenny last appeared as Jane in The Witches Of Eastwick. Before this, she worked in costume departments with companies such as Opera Holland Park (Il barbiere di Siviglia), Six Lips Theatre (Faustus, The Government Inspector) and R-FT (Macbeth). She also arranges cheesy 80s pop music for a cappella choirs, gives talks on street vendors in London in the 1850s, and makes a mean massaman curry. Her favourite animal is the giraffe, and her favourite chemical element is selenium.
Alex Donald - Frederic
Alex joined HMM in 2011 performing mainly in our concerts. He has previously taken on leading Gilbert and Sullivan roles, including Sir Ruthven Murgatroyd in Ruddigore (2006) and Pooh-Bah in our production of The Mikado (2013). Outside of HMM, Alex has played leading characters at the Queen's Theatre in community musicals Lighting up the Lane (2012) and Paper Planes (2014). He MDs a choir in Barking and sometimes teaches piano. As well as performing, Alex is an elected Havering councillor with a passion for the local arts, sitting on Havering Arts Council and having publicly campaigned in support of a better funding deal for the Queen's Theatre. When Alex was 9, he starred as the Haribo kid in the TV advert broadcast across Europe. Go on... YouTube it to see him fall flat on his bum: Haribo Suits (1997 UK).
Sue Howlett - Ruth
Sue has been with HMM since Mack & Mabel in 2003. Since then she has played Timothy's Mother in Salad Days, Mrs Walsingham in Half A Sixpence and Mrs Spofford in Gentlemen Prefer Blondes - each time as Nick's mother. Since then she has played Katisha in The Mikado and Mrs Bumble in Oliver! - both times ending up as Nick's wife. There must be something Oedipal about that...? She has also played Mrs Pearce in My Fair Lady (as Nick's maid...) and Nettie Fowler in Carousel (as Nick's wife's cousin...) Now she has sung 'You'll Never Walk Alone' in Carousel, she just has one song she is desperate to sing - 'Climb Ev'ry Mountain' for years...so if anyone's doing The Sound of Music...?
Nick Ford - The Pirate King
Nick's last on-stage role was as Darryl van Horne in The Witches Of Eastwick a character described as having "major sex appeal". As The Pirate King, he is supposed to be swashbucklingly sexy - he can only assume that Directors have warped views. Nick is more comfortable playing with spreadsheets and can use one of those to tell you that this is the 48th HMM show that he has been involved in (including 15 as MD and 2 as Director). It is also his 18th show at the KMT in the last 4 years - his first being Pirates! He has enjoyed a number of parts over the years including Kipps in Half A Sixpence, Higgins in My Fair Lady and Billy Bigelow in Carousel, Trekkie / Nicky in Avenue Q and Leo Frank in Parade.
David Boushel - Major-General Stanley
Since he joined ELODS in 1997 and performed his first show, Sweet Charity, David has enjoyed too many productions to mention, but particular favourite roles include Finch in How to Succeed in Business Without Really Trying (possibly the only thing he has in common with Daniel Radcliffe) and Joe/Josephine in Sugar. This is now David's 8th show with HMM after he rejoined for Little Shop Of Horrors after a couple of years away. Previous roles with us include Horace Vandergelder in Hello, Dolly! and Lank in Crazy For You. So after playing rude, obnoxious characters he now has to try to control his collection of wards whilst studying his Pythagoras, mythic history and miltiary weaponary!
James Knowles - Sergeant of Police
James has been with HMM for over a year, joining for their memorial concert An Evening for Maurice & Eileen and has since been in The Likes of Us as Thomas Barnado, The Witches of Eastwick as Reverend Ed Parsley and Little Shop Of Horrors as Mr Mushnik. His time with HMM follows from previous productions having played Captain Tempest in Return to the Forbidden Planet, Koko in The Mikado, Giuseppe in The Gondoliers, Mr Bumble in Oliver! and Nicely Nicely Johnson in Guys and Dolls. Not only does he perform on stage, James has dabbled with behind the scenes work as lighting/sound controller and even as director (and in the process has learnt the hard way why you should not attempt to do all this in the same production if you want to keep your sanity!)
Shaun Lee - Samuel
Shaun joined HMM last year for The Witches of Eastwick and was then the voice of Audrey 2 in Little Shop Of Horrors. Shaun is relatively new to musical theatre, but has a lot of experience as a musician, playing Bass, Acoustic Guitar and Piano. He has played in various bands, toured across the UK and has done some session work. He also supported Ed Sheeran and Wretch 32 during a Musicalize charity event at The O2. More recently, he has been focusing on work as a Sound Engineer - engineering live events and working as a Sound Production Mixer / Boom Operator on some independent feature films and TV shows for Sky and BBC3. He has recently set up his own production company and is currently writing a screenplay which will be going into production this year. G&S is something a little different, but he has thoroughly enjoyed the challenge!
Molly Taylorson - Edith
Molly's first show with HMM was here last year when she played Crystal in Little Shop Of Horrors, but she is not a stranger to performing. Whilst at college, she has performed in many productions including Oliver! (playing Mr Sowerberry), Blood Brothers (playing Mickey), Sweeney Todd, A Little Princess, The Matchgirls (playing Annie Beasant) and Angry Birds (playing Richard Peahen/Annie Kestrel). She admits to being a very busy person, going to university, working three jobs and constantly rehearsing - but still finding time to chill and watch plenty of films and TV! She has been slightly hampered by a broken ankle during rehearsals, but that hasn't stopped her warbling away!
Sonja Lahiff - Kate
This is Sonja's 7th show with HMM, having joined the company in late 2013. She was delighted to play the title role in Calamity Jane, followed by Jenny in The Likes of Us and, most recently, Jennifer in THe Witches Of Eastwick demonstrating an HMM trend (until this show) of playing characters whose names begin with J - fitting, given people often substitute this lettter in her own name! Sonja has also been performing in musicals and plays at the Kenneth More Theatre for over 12 years; favourites include Some Like it Hot (Sugar Kane), Daisy Pulls it Off (Trixie Martin), Avenue Q and Children of Eden. Sonja loves performing with her new HMM friends, none of whom were made due to the fact she provides home-made cakes at rehearsals and backstage…
Siobhan Schofield - Director & Choreographer
The Pirates of Penzance marks Siobhan's directorial debut for HMM and at the KMT. Siobhan trained as an actor at the Poor School and has been performing at the KMT for 11 years, including performing with HMM in 2013. Professional roles have included Gwendolen in the original cast of Handbag!, several theatre-in-education roles that saw her perform to over 200,000 school children, and two UK tours as Frida in Abba Gold. She is experienced in teaching both drama and Irish dancing. Siobhan now runs a theatre company touring schools and care homes, and is currently writing both a jukebox musical and a horror screenplay. When she isn't being theatrical she enjoys spending time with her two year old son and her marvellous husband, without whose support her dream of owning a theatre company would not have been possible.
Ben Summers - Musical Director
Ben studied at Balliol College, Oxford, and the Guildhall School of Music where he played under many conductors including Sir Colin Davis, Paolo Olmi and George Benjamin. Today he has a varied playing career working with London Orchestras and X Factor winners; he has performed at the Royal Albert Hall, done live radio broadcasts and recorded at Abbey Road. Ben has conducted many shows at the KMT including State Fair, Carousel, Hello, Dolly!, The Pajama Game, The Mystery of Edwin Drood, All Shook Up, Parade and By Jeeves. This will be his first show as Musical Director for HMM.
Havering Music Makers are an amateur society affiliated to The National Operatic and Dramatic Association and acknowledge the support of Havering Arts Council