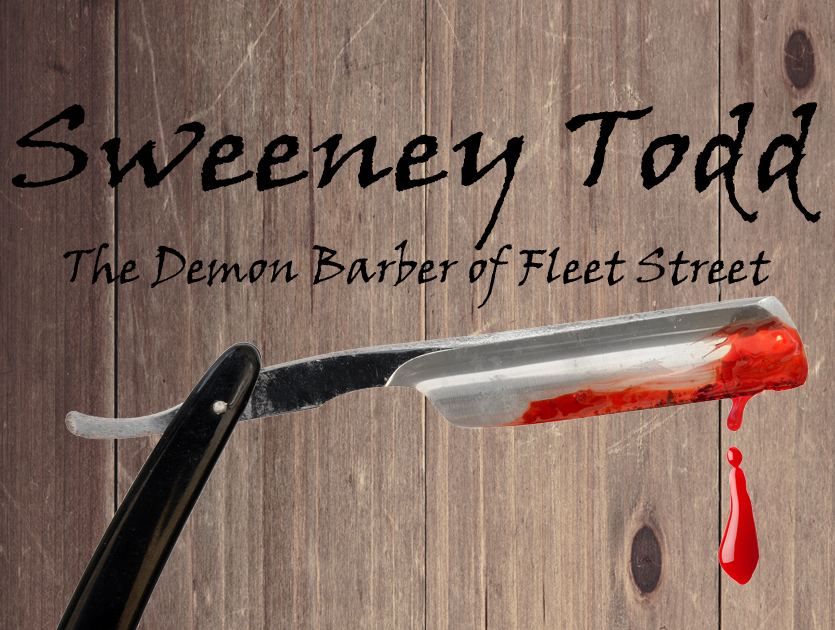 SWEENEY TODD
The Demon Barber of Fleet Street
A Musical Thriller
Meet The Cast & Creative Team


Nick Ford - Sweeney Todd
Nick decided he wasn't going to do any more shows after playing The Pirate King in HMM's The Pirates Of Penzance last February. Well, that didn't last long... He is incredibly excited to be performing in his first Sondheim, something he has been awaiting for many years! When he isn't slitting throats, Nick can be found playing with spreadsheets and he can use one of those to tell you that this is the 49th HMM show that he has been involved in (including 15 as MD and 2 as Director). It is also his 20th show at the KMT in the last 5 years. He has enjoyed a number of parts over the years including Kipps in Half A Sixpence, Higgins in My Fair Lady and Billy Bigelow in Carousel (all with HMM), Trekkie / Nicky in Avenue Q (for the KMT) and Leo Frank in Parade (with Forest Musical Theatre Company).
Jackie Lowe - Mrs Lovett
Jackie is returning to HMM after playing Felicia Gabriel in The Witches of Eastwick in 2015. She is certainly no stranger to theatre (and especially the KMT!) having played a number of roles in both musicals and plays over the past 23 years including Dolly Levi in Hello, Dolly!, Cora in Calendar Girls and a rather operatic wardrobe in Beauty and the Beast. She was also involved in the 2012 Olympic Opening ceremony masquerading as a lindy hopping nurse.
Jake Portsmouth - Anthony Hope
After a year long hiatus, Jake is absolutely ecstatic to be making his return to HMM! He was last with us for Hooray For Hollywood in 2015 but has been a recurring member of the Society for the last 6 years. Since his last performance with us, he has played Philip Lombard in And Then There Were None, Kenickie in Grease and Don John in Much Ado About Nothing. He also played leading roles in back to back Woodford Pantomimes, most recently one of the title roles in Beauty And The Beast...we'll let you guess which one!
Molly Taylorson - Johanna
Molly's first show with HMM was here at the KMT in 2015 when she played Crystal in Little Shop Of Horrors and she followed this with something a bit different, playing Edith in The Pirates of Penzance here last year. Molly studied musical theatre for 4 years, gaining her foundation degree last year. Since finishing her studies, she has started performing in cabarets with her friend Lauren Ghost as part of a singing duo (Ghost & Taylorson) and she is very excited for the shows they have coming up this year. In other productions she has played parts such as Sue in A Slice Of Saturday Night, Penelope Pennywise in Urinetown, Annie Beasant in The Matchgirls, Mickey in Blood Brothers and Mr Sowerberry in Oliver!
Molly admits to being obsessed with Sondheim and also admits to Sweeney Todd being her favourite musical, so she is ecstatic the be playing one of her dream roles in this HMM production.
George Davis - Tobias Ragg
George is new to HMM, joining in 2016 as a member of the ensemble for Annie. He has attended Sylvia Young Theatre School from the age of 8 and is currently studying Drama A-level and teaches Drama to younger children. When not singing in the shower (using Miracle Elixir on his hair), George is still found singing and has had the pleasure of singing for both Princess Anne and Her Majesty The Queen.
George made his West End debut this summer in The Secret Garden (Ambassadors Theatre) which was a dream come true. Some other credits include Mugged (Royal Academy Of Dramatic Arts), Peter Pan A Musical Adventure (Bloomsbury Theatre), Seussical (Ormiston Theatre), Made in Dagenham (George Green Theatre), Singin' in the Rain (Coopers School Theatre) and A Slice of Saturday Night (Brookside Theatre).
Playing the role of Tobias is so exciting and fun as George gets to be a young boy again, not that he's really grown up at all!
James Knowles - Judge Turpin
James has been with HMM since 2014 and has appeared in a number of productions since then including The Likes of Us as Thomas Barnado, The Witches of Eastwick as Reverend Ed Parsley, Little Shop Of Horrors as Mr Mushnik and The Pirates Of Penzance as Sergeant of Police. His time with HMM follows from previous productions having played Captain Tempest in Return to the Forbidden Planet, Koko in The Mikado, Giuseppe in The Gondoliers, Mr Bumble in Oliver! and Nicely Nicely Johnson in Guys and Dolls. Not only does he perform on stage, James has dabbled with behind the scenes work as lighting/sound controller and even as director (and in the process has learnt the hard way why you should not attempt to do all this in the same production if you want to keep your sanity!)
David Boushel - The Beadle
Since he joined ELODS in 1997 and performed his first show, Sweet Charity, David has enjoyed too many productions to mention, but particular favourite roles include Finch in How to Succeed in Business Without Really Trying (possibly the only thing he has in common with Daniel Radcliffe) and Joe/Josephine in Sugar. David's has performed in a number of shows with HMM and has played roles including Horace Vandergelder in Hello, Dolly!, Lank in Crazy For You, Major-General Stanley in The Pirates Of Penzance and Roosevelt in Annie. David has been busy practising his falsetto, but it turns out the traditional swift kick is just painful...
Katey Callaghan - Beggar Woman
This will be Katey's second show with HMM after playing a Boylan sister in Annie last year. She is thrilled to be returning to the KMT - the last time being 12 years ago(!!!) as The Cat in the Hat in Seussical the Musical (with Sideshow Theatre Company). Shortly after this, Katey attended London School of Musical Theatre and then had a short stint as a professional actress before settling down with her husband and having her two lovely little boys. She is now very much enjoying being part of HMM and is very happy to be playing the Beggar Woman in one of her favourite musicals.
Alan Phelan - Adolfo Pirelli
Alan joined HMM in 2008 shortly after moving to Essex from Ireland. Since then he has used his considerable Irish charm to land himself a number of fantastic roles including Freddy Eynsford-Hill in My Fair Lady, Cornelius Hackl in Hello, Dolly!, Danny Gilmartin in Calamity Jane, Mr Snow in Carousel and Rooster in Annie. He has been practising his accents for this role - his Italian accent is absolutely perfect, but the other accent he uses needs a lot of work. When not singing old Irish melodies to his wife and kids, Alan works for the Blood Donation service. So he is certainly not fussed about all the blood in this show, though would rather the blood was recycled in other ways!
Trent Butler - Jonas Fogg
Trent's first show with HMM was Let's Go To The Movies III in 2009 - it was the best decision of his life. Apart from making so many close friends, he also met his loving wife Emma. After his first taste of acting, he went on to study Performing Arts, for which he received a Triple Distinction. While studying, the played roles including The Professor in Jim Cartwright's Road, Sir Toby Belch in Shakespeare's Twelfth Night, and many improvised pieces. WIth HMM, Trent has performed a host of roles. His first principal role was Barnaby Tucker in Hello, Dolly! and, most recently, he played Burt Healy in Annie. Trent's favourite role to date is Mr Sowerberry in Oliver! - a character he relished playing. Trent is very excited to have another creepy role once again in Sweeney Todd.
Christine Brown - Director & Choreographer
Sweeney Todd marks Christine's full directorial debut for HMM. Christine is a qualified tap teacher, having trained in ballet and tap at the Italia Conti Academy of Theatre Arts, London. She also studied acting and singing at the Academy Drama School. She has choreographed a number of HMM shows and concerts in the past including Gentlemen Prefer Blondes, and Godspell. She was also Assistant Director for HMM's The Witches Of Eastwick. She is more often seen treading the boards with HMM and as well as being Dance Captain of numerous shows has also played Sally Smith in Me & My Girl, Jane in Salad Days, Minnie Fay & Irene Molloy in Hello, Dolly! (not at the same time...) and Pitti-Sing in The Mikado.
Simon Gray - Musical Director
Information about Simon will appear here soon!
Havering Music Makers is an amateur society affiliated to The National Operatic and Dramatic Association and acknowledge the support of Havering Arts Council